Irish Schools PPP Programme – Bundle 3
The project involved the construction of new schools in rapidly developing areas, replacement of existing schools, and new accommodation for schools formed by the amalgamation of existing schools.
Finde mehr heraus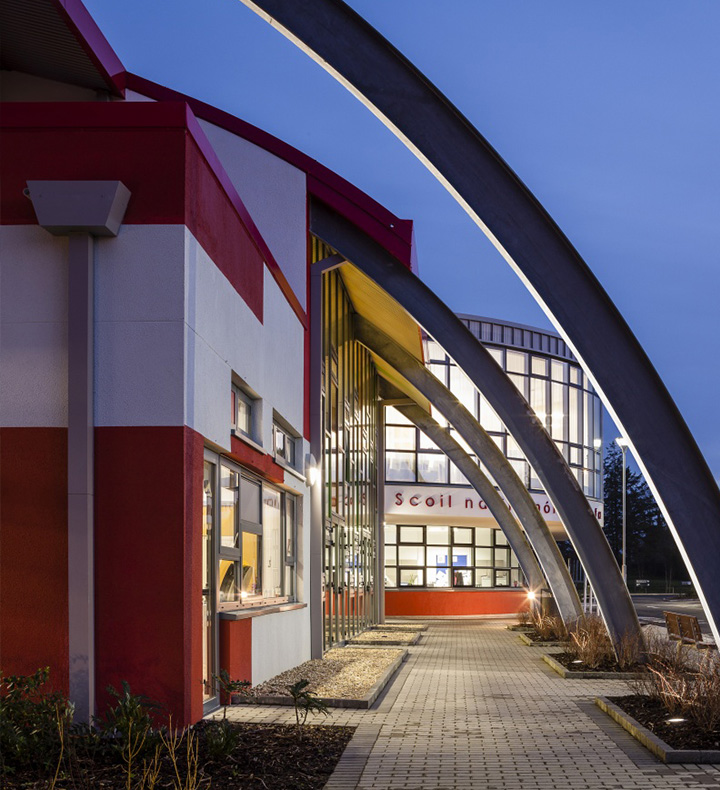 The challenges
SPV General Manager Declan Gallagher outlines some of the key aspects of the development.
"A major issue during construction was building within a 'live' school environment at Athlone. A plan was put in place to enable the different stages of the works to be undertaken but allow the existing premises still to function. That included providing temporary accommodation including a gym, a new GAA pitch, a football pitch, basketball courts, and demolishing existing buildings while avoiding disruption to school life.
Continuous consultation with the school management ensured that all phases were carried out without impacting on school activities. Plans were also devised to accommodate examination timetables and give consideration to school opening and closing times.
Declan continued:
"Another key issue was working around wildlife concerns, specifically the presence of badgers on the site. Various surveys were carried out, in consultation with the National Parks and Wildlife Service, and a total of 14 badger setts were discovered in the construction area.
"As construction was not permitted during breeding season, it was necessary to phase it around these areas. Eventually, a badger license was obtained which allowed for the destruction of any inactive sets with the entrances to the remaining active setts treated as follows depending on their proximity to the building footprint."
Finde mehr heraus
€
100
Million
Capital Value
The solution
BAM's commitment to innovation was evident from a number of measures implemented across the individual sites.
The school buildings are all bright and spacious with suitable acoustic environments and designed to be flexible so they can be adapted to promote different forms of learning in future. A specific proposition was produced for each of the eight schools with all designs being tailored in response to individual sites and briefs, as outlined by the Authority.
"BAM have delivered the project on time. This is a remarkable achievement given the scale and significant detailing in its design and realisation. More remarkable however is the apparent ease with which the various stages of construction were completed in an efficient and extremely organised and calm manner." Padraig Cawley | Principal, Ardscoil na Mara, Tramore