Irish Schools PPP Programme – Bundle 3
Delivering bespoke schools that will enhance the teaching and learning experience of staff and pupils
The Irish Government's Department of Education and Skills (DoE) launched a PPP Schools Bundle programme to address the increasing demand for educational infrastructure in rapidly developing areas. The programme entails replacing existing schools with new accommodation or providing new accommodation for schools formed by the amalgamation of existing schools.
Procured by the National Development Finance Agency ("NDFA") on behalf of the DoE, the programme was a major investment in education infrastructure by way of public private partnership ("PPP") arrangements.
Scroll om meer te weten te komen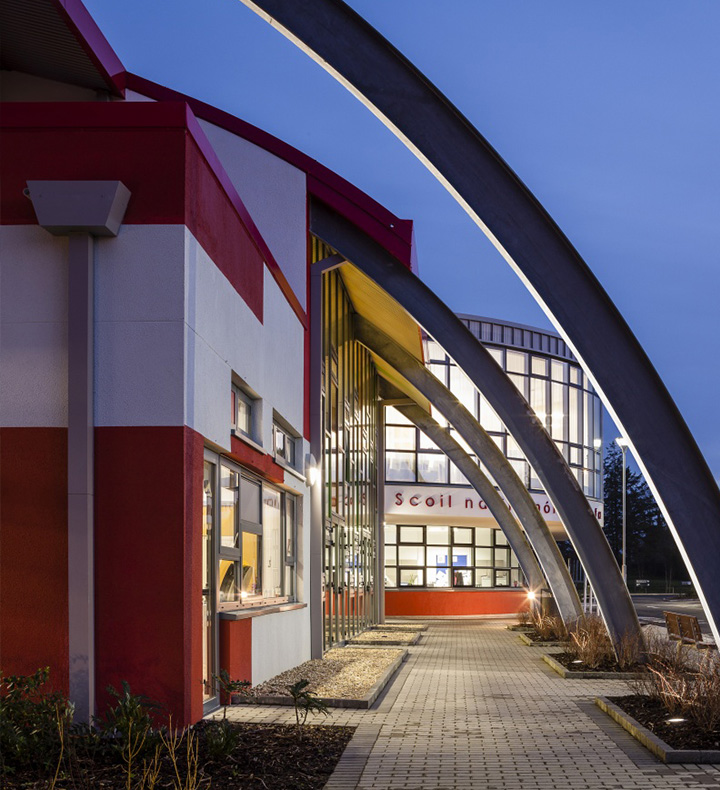 The challenges
Providing the end user with aesthetically pleasing environments that staff and pupils could be proud of was a priority for the NDFA. Each of the 8 schools were required to have a bespoke design and meet specific requirements expressed by the Authority to enhance the teaching and learning experience of the end users.
In 2012, Invesis were awarded the €100 million Schools Bundle 3 contract to design, build, finance and maintenance of eight schools (seven post-primary schools and one primary school) on seven sites providing approximately 5,700 pupil spaces in total.
Invesis is the 100% equity provider for the project and will maintain the project for a 25-year period.
Scroll om meer te weten te komen
€
100
Million
Capital Value
The solution
Invesis appointed three different architectural design teams – C.J.Falconer & Associates Architects, McCullough Mulvin Architects and McGarry Ni Éanaigh Architects to design each of the schools uniquely in response to their different sites.
Bringing together a broad range of expertise meant that managing relationships and expectations were key. Through collaborative working solutions, Invesis liaised with the client, designers and EPC on a regular basis to foster strong relationships and ensure the designs exceeded the briefs and met the needs expressed by the Authority.
Schools Bundle 3 design and construction obligations, were carried out by the Building Contractor and our long-term partner BAM Building. Facilities Management services are carried out by BAM FM Ireland.
Invesis were committed to discussing issues openly with the Authority, to explore problems thoroughly and comprehensively, to share our risk analysis, listen to the Authority's point of view and work in a way designed to take issues off the table once our risk management and mitigation measures were settled.
Our Finance team brought their significant experience of delivering the funding strategy. As a strong European PPP business, we have relationships with around 25 banks – providing intimate knowledge of the market and access to the best terms available.
'Since 2014, all 8 of the schools have been operational', says Sharon Keane, Project Manager. 'The high quality and state of the art teaching environments will change the learning experience of pupils for future generations'.